From a historical point of view, Ataun has been a very important town thanks to its strategic location – it is on the Navarre border. Although nowadays it is not an important stopping off point, at one time the road from Navarre to the coast passed through.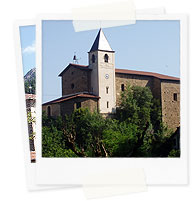 The population of the town, in centuries gone by, was much greater than it is now, which bears witness to its importance. At present, vestiges of that illustrious past are still conserved: the Zubikoeta (17th cent.) and Zelaibar (16th cent.) palaces, San Martín de Tours, San Gregorio Magno (19th cent.) and Santa Isabel (20th) churches, the Town Hall (17th cent.)… There are also treasures inside them, such as the Iberian baroque organ in San Martín's church, one of the most important of the 7 that exist in Gipuzkoa, and a Renaissance altarpiece.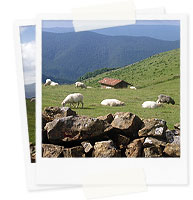 If we go back further in time, the dolmens left by the first settlers (the megalithic stations of Aralar and Ataun-Burunda), the remains from caves, such as Pikandieta or Limurita and the remains of the old Roman road in Berrenoa are of particular importance. One may also visit numerous spots discovered and presented by the Ataun man, Joxemiel Barandiaran.
Following the tradition, the shepherd's sheep pens, the cable and pulley which have been so important especially for transporting grass and wood, and the lime kilns, have been conserved to help us to understand the way of life in the past. And of course there is the treasure compiled by Joxemiel, the pride and joy of the people of Ataun, which can be seen in the Barandiaran Museum: the mythological world.
BIBLIOGRAPHY
Agirre, J., Alvarez, D., Lamikiz, X., Moraza, A. eta J. A. Mujika. 2006. Kulturbideak Aralarren. Harrien atzetik urratsez urrats: Giza Iraganaren Aztarnak Aralarko Parkean. Gipuzkoako Foru Aldundia, Landa Ingurunearen Garapenerako Departamentua. Donostia.
Aguirre, Iñigo et al. 1990. Bailarak : guía de ríos, valles y comarcas de Euskal Herria. Vol. 6. Sendoa-Linorsa-Kriseilu. Donostia
Aizpurua, Jon. 2005. Jentilen Etorrera: herri baten arima (1981-2005). VIII. Ataun Aztergai Beka. Ataungo Udala.
Aranburu, P.J. 2003. Ataungo ogibide historikoen edo artzaintza, nekazaritza, basogintza, errota, eraikuntza eta zerbitzuen kulturazko eragin nagusia bertako ETNOSAren historian, XIV-XX mendeetan. VII. Ataun Aztergai Beka. Ataungo Udala.
Ayerbe, Enrique. 1981. Mendiak II: Montes de Euskal Herria, Naturaleza y Huella humana. ETOR. Donostia.
Ayerbe, Enrique. 1990. Ibaiak eta haranak: Historia, arte eta paisajearen gidaliburua. ETOR. Donostia.
Barandiaran, J. M. 1972. Diccionario ilustrado de mitología vasca. In: Obras Completas, I. alea. La Gran Enciclopedia Vasca. Bilbo.
Barandiaran, J. M. 1973. Eusko folklore. In: Obras Completas, II. Alea. La Gran Enciclopedia Vasca. Bilbo.
Urdangarin, Nekane eta Munduate, Leire. 1996. Karobiak Ataunen. Eusko Jaurlaritza.