Leyendas de la mitologia vasca contadas en ataun
1. The old lady of Zaindegi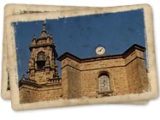 It is said that the Gentiles built the church in the square. Legend says that Christians began to build the church in the current location of the cemetery. But at night the Gentiles of Jentilbaratza brought down all the stones accumulated during the day by the Christians to a place by the river, where the present church is located.
One night a woman from Zaindegi began to spy from the window to see who was bringing the stones down to the river.
A Gentile who was working with his ox passed by Zaindegi and said:
Giddy up white, Giddy up red
Take out the eye
of the woman who spies!
Since then the woman was left blinded in one eye and everyone gave in to the will of the Gentiles and helped build the church in its present location.
* Esta leyenda de la mitología vasca puedes oirla en la The Barandiaran route.